In Off The Far Post
We have been working with In Off The Far Post for a number of years now but its only since we moved our office and workshop within the premises that we realized how incredible the shop is.
In Off the Far Post is without doubt, one of Britain's best football memorabilia shops. Stacked full of everything from programmes to shirts to Subbuteo, it has something for every football fan and memorabilia collector. Owned by enthusiast and Nottingham Forest fan Paul, the incredible selection of carefully chosen items of memorabilia feels never-ending, making it easy to get lost in football memories. Positioned closed to Dean Court and Pokesdown Train Station, this store is not just popular with locals, but also travelling football fans!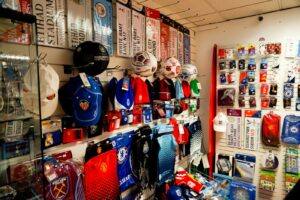 The shop is dissected into several different rooms dedicated to all aspects of collection; including one room containing over 50,000 programmes. The programme rooms are organised into teams and are dated from the 1940s all the way up to the present day. Meticulous care has been taken to ensure every programme has its own airtight sleeve and any faults or special conditions mentioned on the front. Many customers spend hours lost in memories, picking out specially chosen games.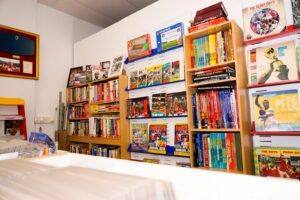 The comic and bookroom is a library full of reasonably priced hand picked autobiographies. Of which many can be recommended by shop owner Paul. Various football related comics line the shelves and are all individually packaged like the programmes. These include classics such of Roy of the Rovers, Shoot Magazine, Goal and Soccer Star.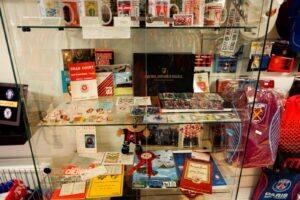 The front of the shop contains a vast selection of new and pre-loved football shirts. Including signed, match worn and brand new shirts from all over the world. With over 350 shirts, most enthusiasts find a shirt to suit. The walls of the shop contain a huge selection of framed memorabilia from various footballing icons. As well as individually signed photos. A huge selection of framed shirts are available for purchase including the likes of Gazza, Pele and even up to the present day with World Cup Golden Boot Winner Harry Kane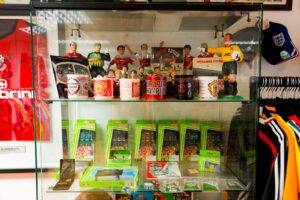 The Remainder of the shop is filled with football-related memorabilia such as Subbuteo, Cards, Souvenirs, and Scarfs and of course our Sports Memorabilia Framing Service!
We hope to see you in the store sometime soon!
For further information, please pop into the shop at;
In Off The Far Post, 901 Christchurch Road, Pokesdown, Bournemouth, BH7 6AX or contact Paul at inoffthefarpost@gmail.com or 01202 429446
Or for shirt framing, contact theshirtframingservice@gmail.com or 0800 0378 9790