Welcome to the Shirt Framing Service!
We offer professional, affordable and bespoke framing solutions for all manner of sporting goods.
Whether that's a shirt, some equipment or even something larger, we've got something to help you preserve your favourite sporting memories.
Ou service has been designed to ensure that we can offer a completely Nationwide Service. So, wherever you may happen to be in the Country, our services are available to you!
Browse our site to see our various options and their prices. Or, alternatively, Get in Touch with us directly and see if we can help you.
Framing Made Easy
We have created an easy to understand collection of products together a variety of packages to make choosing your framing option even easier!
Our Gold, Silver & Bronze framing packages are some of our most popular. Read More about these packages below, alternatively Browse and Buy from our entire shop.
Our Bronze Shirt Framing Service allows affordable high-quality framing with an eye-catching finish. Sleek in design the service comes with a choose of White or Black Frames and an option White or Black Background.
Our Silver Shirt Framing Service allows affordable high-quality framing with an eye-catching finish. Sleek in design the service comes with a choose of White or Black Frames and a multi-colored option for backgrounds and borders including the option add a personalized plaque of your choice.
Our Gold framing is a premium framing service which allows your shirts to show off all the best features but includes a personal touch with plaques and photos. Display your sleeves on full show in our 3D frames, and add the final touches by adding two free photos to give your shirts that additional bit of context.
Testimonials
Have a look at what our valued customers have to say about our shirt framing service and products
The Shirt Framing Service brilliantly captured my London Marathon medal and vest.
It has been immaculately done and looks fantastic hung up on the wall.
Will undoubtedly be back with my next piece of memorabilia.
Had an England Hockey shirt signed by Maddie Hinch as a gift for my daughter.
From start to finish, The Shirt Framing services were communicative, helpful and professional.
The smile the end result brought to my daughters fac eon her birthday just said it all – could have asked for a better result!
A very helpful and friendly service. I would recommend a visit to In Off The Far Post, Pokesdown. My football shirt was mounted and framed exactly the way I requested. A helpful map of it's signatures followed via email.
Jack was the most accommodating guy you could wish to work with on any framing shirt request. He recently framed our signed Frank Lampard shirt, helped with the plaque, and even provided the appropriate photos to match. A genuinely lovely guy eager to ensure you get a top quality product. Cannot recommend highly enough.
Are you a Charity or Sports Club?
Over the years we have worked closely with many charities and sports clubs to help deliver added value to their customers, donors and stakeholders.
We love being part of something that connects others and as such would be delighted if we could work closely with more of these organisations.
Simply Get in Touch to learn more.
Blogs, Case Studies and FAQ's
Have a read on some our stories, topical content and answers to the questions we get asked the most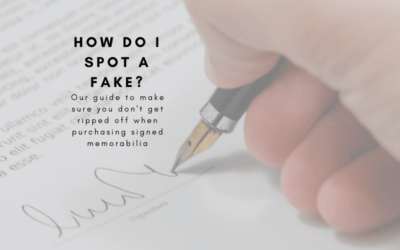 Over the course of the year, we get to frame hundreds and hundreds of items of memorabilia. Anything from signed boxing shorts to match worn football shirts we do it all. We also have a lot of customers ask us how to spot a fake when they are looking to buy...
read more