We've had a great few months at the end of 2018 meeting a few new charities and raising some money in the process. We offer a discount for charities who are looking to frame donated shirts where we will also Auction for them. This has been really successful and allowed a variety of charities to generate more funds from shirts which they would have previously never been able to. We find ourselves very fortunate to be able to help in this way.
The First Shirt that we framed and auctioned was for The Dorset Children's Foundation. This is now the 8th item we've auctioned for them and we are proud to be charity partners. It was won by the ever supportive Reward- IT for £280.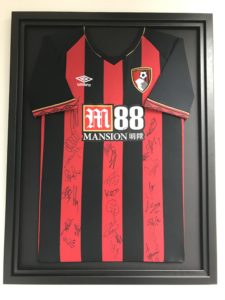 The Dorset Children's Foundation was set up in 2013 to support local sick and disabled children by funding medical expenses, mobility equipment and therapies not covered by the NHS. They provide what is needed for a better quality of life. They have 3 successful charity shops and their sales cover all our modest overheads so 100% of donations will go directly to help a local sick or disabled child.
The Charity are always looking out for help at events and in shop and your supports really does make a difference to local children and families.
You can Find More Information on the Charity here: https://thedcf.org/
We then had the privilege to auction for the British Red Cross shop in Bournemouth. Unfortunately last year their shop was broken into and a large amount of money and stock was stolen. They were Kindly donated a Match Worn Shirt from AFC Bournemouth's Record Signing and Columbia International Jefferson Lerma.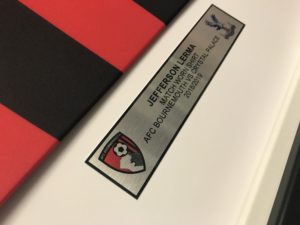 The Auction was very popular on our Facebook page and after a few late bids the shirt eventually went for £235. The guys at the shop were fantastic, welcoming and appreciative and Auction winner Nigel a true gent!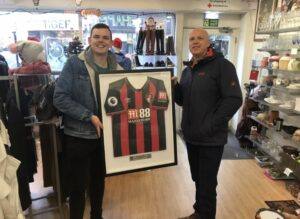 Here you can find out where the money went and more about the British Red Cross : https://www.redcross.org.uk/
Finally over the last week of Christmas, we were contacted by a lovely lady who wanted to donate a signed Bournemouth Shirt to Hurting to Healing. Before meeting we had never heard of the charity who are relatively small but do absolutely fantastic work.
A caption on their website explains what they do.
Our continuing mission is to relieve the enduring suffering and distress of adult survivors of all forms of childhood abuse. This includes physical, emotional, psychological or sexual violation, financial abuse, deprivation and neglect of a child's human rights and needs.
We continue to provide a range of therapeutic services including:
One to one counselling, face to face and through Skype
Facilitated therapeutic and well-being groups
Facilitated creative therapies programmes
Client Support
We also:
Provide training and information to relevant professionals, practitioners and the public
Promote greater awareness of the needs of adult survivors in order to facilitate the development of appropriate services.
The Auction ran from just after Christmas to the new year and was won for £250 by another fantastic man called Mark. Here's a picture of the shirt being presented.
We currently have 6 items being framed up for the first few months of the year for more charity auctions, these include signed Bournemouth Shirts, Boxing memorabilia and Match Worn boots, keep following our Facebook page for more info.
If you have a piece of sports memorabilia you are looking to auction or raffle for charity please feel free to contact us to see how we can help you generate more funds.
Email : theshirtframingservice@gmail.com
Phone : 0800 038 9790
Address : The Shirt Framing Service, In of the Far Post, 901 Christchurch Road, Pokesdown,Bournemouth, BH76AX