Shirt Framing Packages
Our Packages below allow quality affordable design within three simple styles.
Our selection of framing packages below allow framing on a budget to more complex and custom designs. However, if you have something more bespoke in mind please feel to contact us through the links below or visit our build a frame page.
Budget
3D Black Or White Frame

Black or White Background

Coloured Border and Background

Personalised Metal Plaque

Bespoke Sleeve Design

Two Free Photos
Budget 3D Effect Framing

Suitable for Shirt Sizes

US Adult XL/XXL

UK Adult XL/XXL

UK Adult S/M/L

Junior Sizes

Infant Sizes

Available Frame Colours

Black, White

Trim Colour Choices

N/A

Background Colour Choices

Black, White, Grass Effect

Inner Border Choices

N/A

Outer Border Choices

N/A

Sleeves

Hidden

Shirt Orientation

Front or Back

Features & Extras

Plaque (N/A)

Plaque logos or graphics (N/A)

Two Photos (N/A)

LED illumination N/A
Best Value 3D Effect Framing

Suitable for Shirt Sizes

US Adult XL/XXL

UK Adult XL/XXL

UK Adult S/M/L

Junior Sizes

Infant Sizes

Available Frame Colours

Black, White

Trim Colour Choices

N/A

Background Colour Choices

Black, White, Red, Light Blue, Dark Blue, Green, Grey, Grass Effect

Inner Border Choices

Black, White, Red, Light Blue, Dark Blue, Green, Grey

Outer Border Choices

N/A

Sleeves

Hidden

Shirt Orientation

Front or Back

Features & Extras

Plaque (silver only)

Plaque logos or graphics (N/A)

Two Photos (N/A)

LED illumination built in optional
3D Effect Framing

Suitable for Shirt Sizes

US Adult XL/XXL

UK Adult XL/XXL

UK Adult S/M/L

Junior Sizes

Infant Sizes

Available Frame Colours

Black, White

Trim Colour Choices

Black, White

Background Colour Choices

Black, White, Red, Light Blue, Dark Blue, Green, Grey, Grass Effect

Inner Border Choices

N/A

Outer Border Choices

N/A

Sleeves

On show (shirt size dependant)

Shirt Orientation

Front or Back

Features

Plaque (choose from no plaque, silver or gold)

Plaque logos or graphics (optional)

Two Photos (landscape)

LED illumination built in
Deluxe 3D Effect Framing

Suitable for Shirt Sizes

US Adult XL/XXL

UK Adult XL/XXL

UK Adult S/M/L

Junior Sizes

Infant Sizes

Available Frame Colours

Black, White, Gold, Silver, Wood Effect

Trim Colour Choices

N/A

Background Colour Choices

Black, White, Red, Light Blue, Dark Blue, Green, Grey, Grass Effect

Inner Border Choices

Black, White, Gold, Silver, Red, Light Blue, Dark Blue, Green, Grey

Outer Border Choices

Black, White, Gold, Silver, Red, Light Blue, Dark Blue, Green, Grey

Sleeves

On show or folded behind shirt (shirt size dependant)

Shirt Orientation

Front or Back

Features

Plaque (choose from silver, gold or champagne)

Plaque logos or graphics (optional)

Two Photos (landscape)

LED illumination built in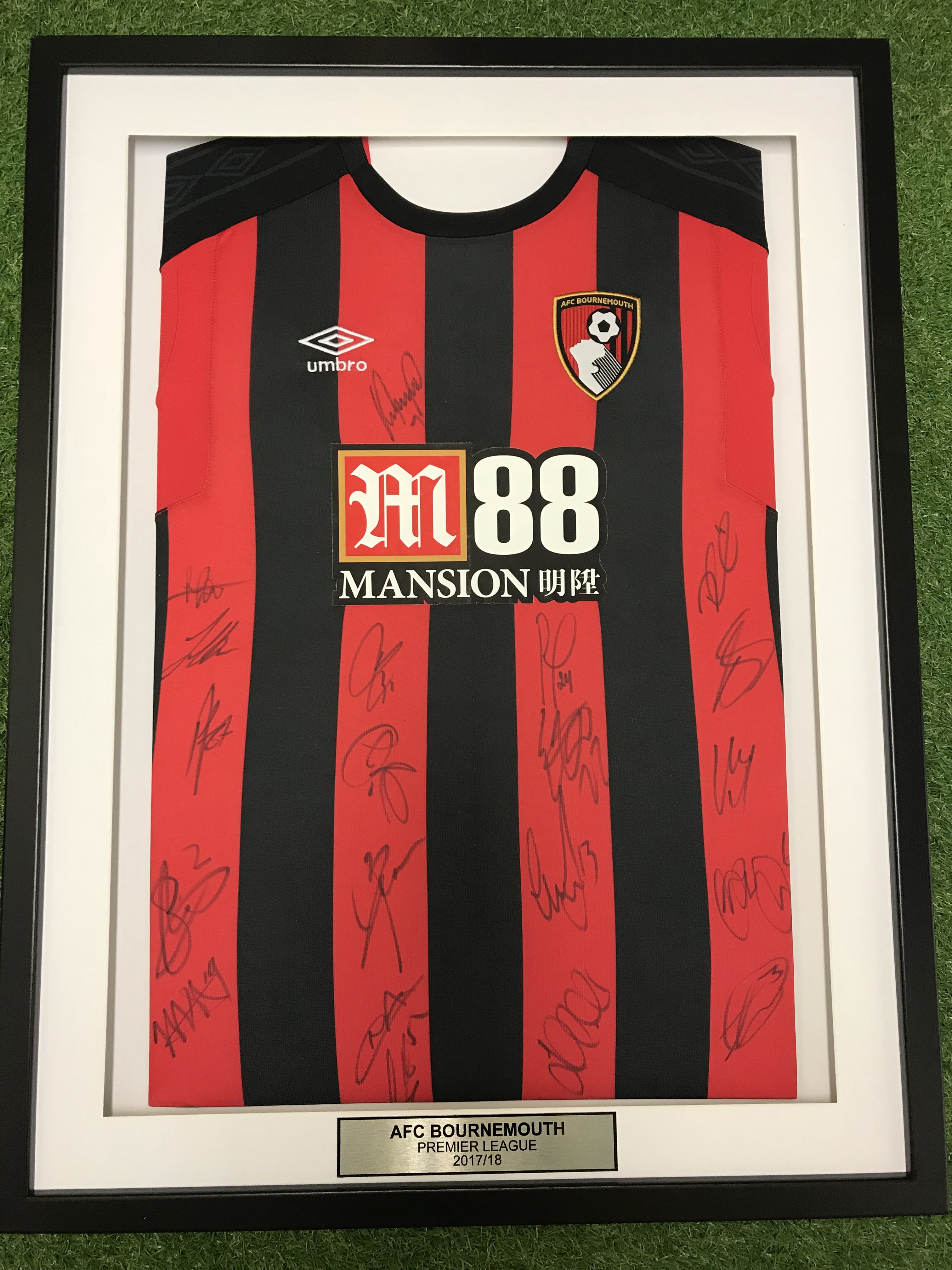 Contact us to start your framing journey